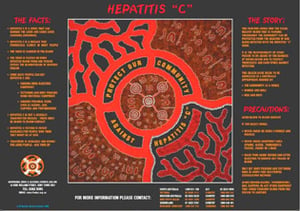 $

1.20
HEP C POSTER
This was the first colour poster about the issue.
The Hep C in 1996
The STORY:
This painting shows how the clean,
healthy blood that is flowing throughout
the community can be protected from the invasion
of bad blood infected with the Hep "C" Virus.
It is the responsibility of every person to
be aware of the dangers of mixing blood
and to protect themselves and each other against infection.
This Health Issue needs to be addressed
in a culturally appropriate manner by:
• THE COMMUNITY AS A WHOLE
• WOMEN ANG GIRLS
• MEN AND BOYS
© IC HEATHER KUMMAREE SHEARER 1996